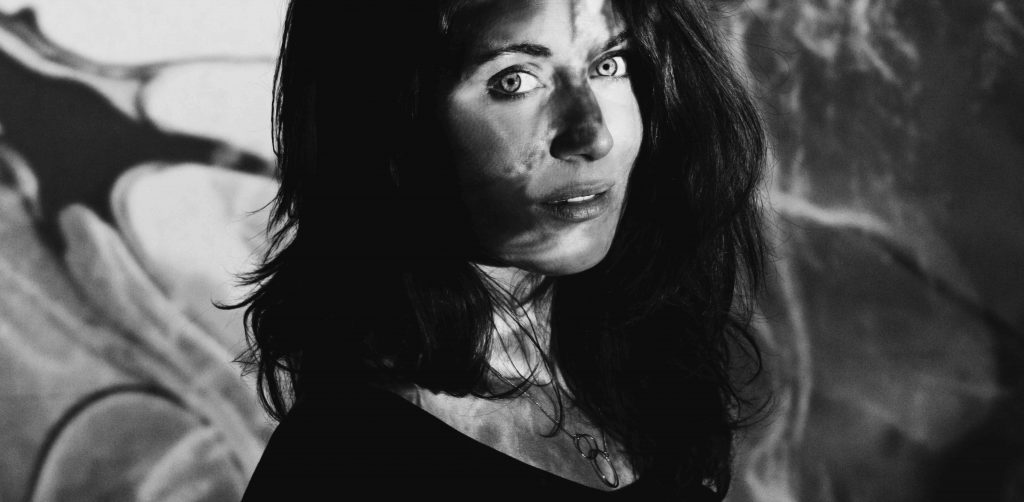 Artist Statement
"As live visual performers, we bring our tools, which are basically just a set of rules, a method which enables us to work live. (…) for me live a visual performance does not necessarily refer to video, so even when I find myself welding sculptures. For me, it feels all the same: Creating content, content to work with, live."
---
Sculptor and live visual performer
Frouke ten Velden, Media Artist and live visual performer based in Amsterdam. As live visual performer Frouke approaches her set (her visuals and devices) as a musician approaches his instrument. In her sculptural work, she explores the boundaries and meaning of sculpture and herein seeks the possibilities of light and projection. Her work has been shown at various galleries and Art festivals like the Van Gogh Museum, Eye Film Institute, TodaysArt festival and the international Rio mapping festival.
---
(Live) Scenographer and art director
She works as (live) scenographer and art director of theater, music and dance performances. From The National Ballet, an orchestra playing Shostakovich or a Socio-Political theater play in the empty shipyards of Amsterdam. Frouke has worked as (live) scenographer with several Dutch music legends like Henny Vrienten – Doe Maar, De Dijk, Van Dik Hout and is art director of the live shows for the psychedelic blues-funk band MY BABY. She often engages with classical music and dance and often finds herself on the cross section of various artistic scenes. Like her collaborative projects with Choreographer Craig Davidson (Creative Arts Davidson) and the collective House of Makers, Or individual artists like Opera Singer Tania Kross.
---
Teaching
Besides her active role as a maker and performer, she also teaches film and photography at The Rijksmuseum where she is part of the Rijksmuseum's Media-Lab team and was teaching Live Visual Performance and Video-Mapping at the Breitner Academy – Amsterdam school of Arts (AHK). Annually she provided masterclasses at the VJ Academy Amsterdam where she is a member of veejays.com.
---
Diplomas
Artistic Research (Research Master) at the University of Amsterdam (2015)
Art History,  University of Amsterdam, (2012)
Amsterdam Art Academy (2009 )
---
Previously mentioned projects were supported by StimuleringsFonds Creatieve Industrie, Amsterdam Fonds voor de Kunst and Fonds Podiumkunsten
---
SEEN AT
Van Gogh Museum, Het Concertgebouw Amsterdam, The Anne Frank House Amsterdam, Rijksmuseum Photo Atelier, Eye Film Institute, Koninklijk theater Carre, Nationale Opera en Ballet (Stopera).
Rio mapping Festival 2017 (Brazil), LPM -Live Performers Meeting 2015-2017, Amsterdam Dance Event 2015-2017 expo, TodaysArt festival, Fiber Festival, Videozone(Poland), Kantor art & technology festival, Playgrounds Festival,  NIMk | Monte Video, W139, Volkshotel, Bradfolff Projects, Galerie Bart, N8 Amsterdam, Nijmeegse Kunstnacht,  A'dam Toren.
Featured by Expo Magazine, Parool, The Creators Project, Vice
PROJECTS
Live Visuals VJ @ MY BABY–music (2013-present)
Art director and (live) Scenography | VJ & light design, MY BABY (Band)
\\VECTOR : VJ Sculpture, art project: sculpture as a medium for VeeJaying (present)
A'dam Tower, Performance Exhibition, December 22, 2018
Eventide, Theatre & Dance with the House Of Makers, March 10-12 2018
A'dam Tower, Performance Exhibition, March 11, 2018
Galerie Bart, Museum Night, Nijmegen, September 3, 2017
LPM Live performers Meeting 2017, 5 days expo, May 2017
Rio Mapping Festival, Rio de Janeiro Brazil, Artist Recidency, April 2017
Live perfromance 5 days ADE -Amsterdam Dance Event at Marktkantine Amsterdam, October 2016
National Ballet, Het Nationale Opera en Ballet & Het ballet Orkest (present)
Art director (live) scenography/visuals. A veejays.com production
De Dijk, Theater tour (present)
Video decor, De Dijk (band)
Van Dik Hout, Theater tour (2016-2017)
Art director, decor and (live) scenography/visuals, Van Dik Hout (band)
Face It! SandraVan Nieuwland – music-theatre (2016)
Art director (live) scenography/visuals and light design, SandraVan Nieuwland (singer)
ANIMA – art installation (2014-2016)
Art director ANIMA, a series of works that explores how we relate to a digital entity. ANIMA questions concepts on interaction, reality and intelligence. ANIMA was created in collaboration with onformative studio for generative design.
SMART – dance theatre (2015)
Art director video and video production, SMART Danstheater AYA.
Alles is Anders (Everything is Different) Henny Vrienten– Music-theatre (2015)
Art director (live) scenography and light design theater show Alles is Anders, Henny Vrienten (singer)
SUN CITY II – Socio-political music-theatre (2015)
Art director video, theater performance (live) scenography. A socio-political musical theater. Commissioned by Jan Rotman and KSI. With Production Melkweg-Paradiso and Over het IJ.
BIG Words @ van Gogh museum- art installation (2015)
Van Gogh Museum, temporary installation, A veejays.com production.
Visitors were invited to participate in the work of art, that grew over the period of one month.
The Lightbulb- Sculpture for VeeJaying – art installation (2013-2016)
Kinetic artwork, a prototype for live performance: interplay with lights and shadows.
SON – theatre (2013)
Scenography theater SON, Tryater Leeuwarden.
The Dark Side of Amsterdam, Videomapping- art installation (2013)
Amsterdam Light Festival, opening interactive video mapping, Art Direction, in collaboration with Medialab Amsterdam
End of Story – music/theatre(2013)
Amsterdam Fringe theater festival, theater End of Story, De Balie, Amsterdam
Willem of Oranje Musical –musical (2010)
Theatre set design and video production, tour. A veejays.com production. (NL)
TALKS & WORKSHOPS
3D mapping Techniques and VJing Masterclass at Salwa foundation/Studio Yalla (2018)
Maxavision Revised,  the archive of Peter Rubin,  Eye Film Institute,  (2018)
Jury, Eye on Art Research lab, Eye Film Institute, Exam VJAcademy (2017)
Teacher Breitner Academy, Live visual performance and videomapping, (2016)
Exam Tutor VJ academy (2016)
Video Mapping workshop VeeJays.com/Sugar Factory (2016)
FIBER Festival, Artist talk, (2015)
Video Mapping workshop PierK (2015)
Rijksmuseum N8, Photography like Rembrandt Workshop (2014)
Beamlab, talk about video mapping Amsterdam Light Festival (2013)
---
EXHIBITIONS
A'dam Tower, Performance Exhibition, \\VECTOR VJ Sculpture, December 22, 2018
A'dam Tower, Performance Exhibition, \\VECTOR VJ Sculpture, March 11, 2018
Gallerie Bart, Museum Night Nijmegen, \\VECTOR VJ Sculpture, September 3, 2017
LPM Live Performers Meeting 2017, \\VECTOR VJ Sculpture, May 2017
Rio Mapping Festival, \\VECTOR VJ Sculpture, Rio de Janeiro Brazil, April 2017
ADE, 2016, \\VECTOR VJ Sculpture, (performance), Marktkantine, Amsterdam
Van Gogh Museum, temporary installation and performance, Amsterdam, 2016
Van Gogh Museum, N8 ANIMA, Amsterdam, 2015
TEDx, ANIMA 2, Delft, 2015
Lehrter Siebzehn, ANIMA 2, Berlin, 2014
KANTOR music-art-technology, ANIMA 2, Amsterdam, 2014
VolksHotel, ANIMA 1, Amsterdam, 2014
Van Gogh Museum, temporary installation, Big Words, Amsterdam, 2014
Bradwolff Projects, The Lightbulb a sculpture for VeeJaying, Amsterdam, 2014
Het Kunstenaarsbal, The Lightbulb a sculpture for VeeJaying, Tropical Institute, Amsterdam, 2014
Amsterdam Light Festival, Video Mapping Moses and Aaron Church, Amsterdam 2013
W139, group exhibition, The Primitives, Amsterdam, 2013
VIDEO ZONE, International Digital Arts Festival (performance), Poland 2013
Eye Film Institute (performance), Museum Night, Amsterdam 2012
Todays Art Festival (NL), (perfromance), 2012
---
MUSIC-VIDEO
Doe Maar & KennyB, 5446 Is My Number
Sandra van Nieuwland, Stop the Clocks