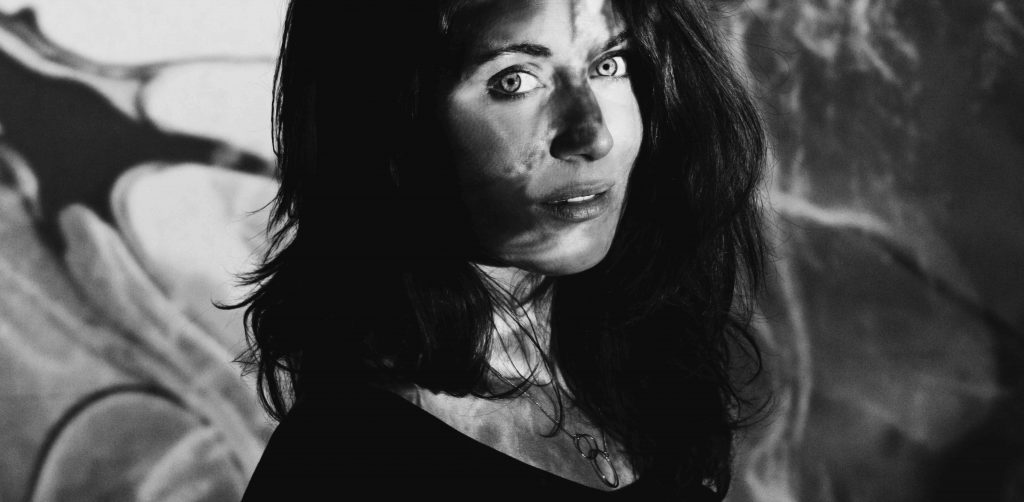 Artist Statement
"As live visual performers, we bring our tools, which are basically just a set of rules, a method which enables us to work live. (…) for me live a visual performance does not necessarily refer to video, so even when I find myself welding sculptures. For me, it feels all the same: Creating content, content to work with, live."
---
Sculptor and live visual performer
Frouke ten Velden, Media Artist and live visual performer based in Amsterdam. As live visual performer Frouke approaches her set (her visuals and devices) as a musician approaches his instrument. In her sculptural work, she explores the boundaries and meaning of sculpture through light, and herein seeks the possibilities of sculpture as a performative medium. Her work has been shown at various galleries and Art festivals like Rijksmuseum Amsterdam,  the Van Gogh Museum, Eye Film Institute, TodaysArt festival and the international Rio mapping festival(Br), Fotonica (It) and LPM festival and  art spaces zoals MU, Eindhoven, W139 Amsterdam en Galerie Bart Nijmegen. 
---
(Live) Scenographer and art director
She works as (live) scenographer and art director of theater, music and dance performances. She often finds herself on the cross section of various artistic scenes. Like her collaborative projects wherein she works with artists and musicians from different fields and backgrounds. From The National Ballet, The Radio Philharmonic Orchestra, 12 hr long DJ sets, or a Socio-Political theater play in the empty shipyards of Amsterdam. She has a continued collaboration with dance theater collective House of Makers, Musical Theatre Sun City, ensemble FUSE, the band MY BABY and individual artists like Opera Singer Tania Kross.
---
Teaching
Besides her role as a maker and performer, she also develops workshops and teaches film and photography at The Rijksmuseum Amsterdam. She annually provides masterclasses in Live Visual Performance and Video-Mapping at the Breitner Academy – Amsterdam school of Arts (AHK) and  HkU, Interactive Performance Design and the VJ Academy Amsterdam where she is also a senior member of veejays.com.
---
Diplomas
Artistic Research (Research Master) at the University of Amsterdam (2015)
Art History,  University of Amsterdam, (2012)
Amsterdam Art Academy (2009 )
---
Previously mentioned projects were supported by StimuleringsFonds Creatieve Industrie, Amsterdam Fonds voor de Kunst and Fonds Podiumkunsten
NL. 
Mediakunstenaar en live visual performer
Mediakunstenaar en live visual performer Frouke ten Velden benaderd haar werk (visuals, installaties, materialen en tools) zoals een muzikant zijn instrument benaderd. Ten Velden specialiseert zich in het maken van sculpturen en ruimtelijk installaties om live mee op te treden. In haar sculpturale werk verkent ze de grenzen van sculptuur en onderzoekt hierin de mogelijkheden van licht en videoprojectie.
Haar werk is te zien geweest op verschillende kunst festivals en instituten zoals Rijksmuseum Amsterdam, het Van Gogh Museum, Eye Film Institute, TodaysArt festival, ADE-playground, en het international Rio mapping (Br), Fotonica (It), LPM-festival en art spaces zoals MU, Eindhoven, W139 Amsterdam en Galerie Bart Nijmegen.
(live) Scenograaf en artdirector
Ten Velden werkt als (live) scenograaf en artdirector van muziek, theater en dansvoorstellingen. Haar werk bevindt zich op de grens van verschillende artistieke disciplines. Ten Velden heeft een achtergrond in elektronische muziekscene, ze werkt als artistiek regisseur en (live) scenograaf, regelmatig samen met nationale en internationale componisten, choreografen en theatermakers uit verschillende scenes. Van Het Nationale Ballet, Het Radio Filharmonisch Orkest tot  12 uur durende DJ-sets of een sociaal-politiek theaterstuk in de lege scheepswerven van Amsterdam. 
Ze heeft een duurzame samenwerking met dans theater collectief House of Makers, muziektheater Sun City, ensemble FUSE en de band MY BABY waar ze visueel verantwoordelijk is voor de liveshows en individuele artiesten zoals operazangeres Tania Kross.
Educatie en masterclasses
Naast haar rol als maker en performer ontwikkelt en verzorgd o.a. film en fotografie workshops bij Het Rijksmuseum Amsterdam. Ze geeft regelmatig masterclasses en lessen in Live Visual Performance en Video-Mapping aan o.a. de Breitner Academie – Amsterdam Hogeschool voor de Kunsten (AHk), aan de HkU studenten Interactive Performance Design en aan de VJAcademy Amsterdam waar ze senior lid is van veejays.com.​
---
[/vc_column_text][/vc_column][/vc_row][vc_row][vc_column width="3/4″][vc_column_text]
SEEN AT
Rijksmuseum Amsterdam, Van Gogh Museum, Het Concertgebouw Amsterdam, The Anne Frank House Amsterdam, Rijksmuseum Photo Atelier, Eye Film Institute, Koninklijk theater Carre, Nationale Opera en Ballet (Stopera).
Rio mapping Festival 2017 (Brazil), LPM -Live Performers Meeting 2015-2017, Amsterdam Dance Event 2015-2017 expo, TodaysArt festival, Fiber Festival, Videozone(Poland), Kantor art & technology festival, Playgrounds Festival,  NIMk | Monte Video, W139, Volkshotel, Bradfolff Projects, Galerie Bart, N8 Amsterdam, Nijmeegse Kunstnacht,  A'dam Toren.
Featured in
A Critical History of Media Art in the Netherlands, Expo Magazine, Parool, The Creators Project, Vice, Leeuwarder Courant. [/vc_column_text][/vc_column][vc_column width="1/4″][/vc_column][/vc_row][vc_row][vc_column width="1/2″][vc_column_text]
PROJECTS
Resonance, Artistic research, autonomous work, audiovisual. 2020-present
Research into the possibilities of translating music into spatial objects and vice versa: to use a spatial design as a graphic score.
MACA, Moving Arts Center Amsterdam
Fotonica festival (It)
The world we live in Festival, Groningen
Neo Shibuya; 30 sec. museum (Tokyo)
RADION Amsterdam
Artspace MU Eindhoven
Melkweg Amsterdam
DRAKA, Amsterdam
November Music den Bosch (in collaboration with ensemble FUSE)
De Kleine Komedie Amsterdam (in collaboration with ensemble FUSE)
Tania Kross, Van Curaçao tot Concertgebouw, Opera 2023
IRIS art installation, Schouwburg Hengelo, November-Januari, 2022
IRIS art installation, No Art – Synergy festival, Amsterdam 202
CANVAS, public video art installation, video mapping on the facade of theatre the Harmonie, Leeuwarden. 2020-2021
Maria Louise Was Here, Videomapping – Son et Lumiere, Princessehof Fries Museum, 2021-2022
Tania Kross, From Mozart to Madonna, Opera 2019-2020
Artistic director of video production, scenography and lighting design
MY BABY, band, pop music 2013-present
Artistic director of video production, (live) scenography / visuals
Michel van der Aa, Music video, 2020
Queen of the Night, album Time Falling
De Dijk, band, Theatertour Groef, pop music 2017
Artistic director video video production, video decor
Doe Maar, club tour, pop music 2020-2021
Artistic director of video production, scenography and lighting design
House of Makers, Eventide, Danstheater 2018
Scenography and installation art
\\VECTOR : VJ Sculpture, art project: sculpture as a medium for VeeJaying (present)
A'dam Tower, Performance Exhibition, December 22, 2018
Eventide, Theatre & Dance with the House Of Makers, March 10-12 2018
A'dam Tower, Performance Exhibition, March 11, 2018
Galerie Bart, Museum Night, Nijmegen, September 3, 2017
LPM Live performers Meeting 2017, 5 days expo, May 2017
Rio Mapping Festival, Rio de Janeiro Brazil, Artist Recidency, April 2017
Live perfromance 5 days ADE -Amsterdam Dance Event at Marktkantine Amsterdam, October 2016 
Dutch National Opera and Ballet & The Ballet Orchestra, Amsterdam I am 2017
Artistic director of video production, (live) scenography / visuals
ANIMA, interactive art installation 2014-present
Art director ANIMA, a series of works that explores how we relate to a digital entity. ANIMA explores concepts on interaction, reality and intelligence. ANIMA was created in collaboration with onformative studio for generative design and is continued to be exhibited by studio NV.
SXSW, Texas, US
Van Gogh Museum, Amsterdam
TEDx, Delft
Lehrter Siebzehn, Berlin, DE
KANTOR music-art-technology, Amsterdam
Volkshotel, ANIMA 1, Amsterdam
The Lightbulb Project, light sculpture.  2015
Bradwolff Projects, The Lightbulb a sculpture for VeeJaying Amsterdam
Het Kunstenaarsbal, The Light Bulb a sculpture for VeeJaying, Tropeninstituut Amsterdam
Van Gogh Museum, Friday evening, residency 2016
Video work inspired by various exhibitions at the Van Gogh museum, Amsterdam
Todays Art Festival,  The Hague 2016
video mapping, VJ club nights
Eye Fiminstitute, Museum Night, Amsterdam 2016
Live visual Performance
AYA Danstheater, S.M.A.R.T. 2016
Artistic director of video and video production
Henny Vrienten, Theatertour (Alles is Anders) 2015
Artistic director (live) Scenography and lighting design theater tour
SUN CITY II – Music Theater 2015
(live) Scenography theater performance SUN CITY II, Engaged socio-political music theater. Commissioned by Jan Rotmans and KSI, by Production House Melkweg Paradiso & Over het IJ.
Face It! SandraVan Nieuwland – music-theatre (2016)
Art director (live) scenography/visuals and light design, SandraVan Nieuwland (singer)
BIG Words @ van Gogh museum- art installation (2015)
Van Gogh Museum, temporary installation, A veejays.com production.
Visitors were invited to participate in the work of art, that grew over the period of one month.
The Lightbulb- Sculpture for VeeJaying – art installation (2013-2016)
Kinetic artwork, a prototype for live performance: interplay with lights and shadows.
SON – theatre (2013)
Scenography theater SON, Tryater Leeuwarden.
The Dark Side of Amsterdam, Videomapping- art installation (2013)
Amsterdam Light Festival, opening interactive video mapping, Art Direction, in collaboration with Medialab Amsterdam
End of Story – music/theatre(2013)
Amsterdam Fringe theater festival, theater End of Story, De Balie, Amsterdam
Willem of Oranje Musical –musical (2010)
Theatre set design and video production, tour. A veejays.com production. (NL)[/vc_column_text][/vc_column][vc_column width="1/2″][vc_column_text]
TALKS & WORKSHOPS
3D mapping Techniques and VJing Masterclass at Salwa foundation/Studio Yalla (2018)
Maxavision Revised,  the archive of Peter Rubin,  Eye Film Institute,  (2018)
Jury, Eye on Art Research lab, Eye Film Institute, Exam VJAcademy (2017)
Teacher Breitner Academy, Live visual performance and videomapping, (2016)
Exam Tutor VJ academy (2016)
Video Mapping workshop VeeJays.com/Sugar Factory (2016)
FIBER Festival, Artist talk, (2015)
Video Mapping workshop PierK (2015)
Rijksmuseum N8, Photography like Rembrandt Workshop (2014)
Beamlab, talk about video mapping Amsterdam Light Festival (2013)
---
EXHIBITIONS
A'dam Tower, Performance Exhibition, \\VECTOR VJ Sculpture, December 22, 2018
A'dam Tower, Performance Exhibition, \\VECTOR VJ Sculpture, March 11, 2018
Gallerie Bart, Museum Night Nijmegen, \\VECTOR VJ Sculpture, September 3, 2017
LPM Live Performers Meeting 2017, \\VECTOR VJ Sculpture, May 2017
Rio Mapping Festival, \\VECTOR VJ Sculpture, Rio de Janeiro Brazil, April 2017
ADE, 2016, \\VECTOR VJ Sculpture, (performance), Marktkantine, Amsterdam
Van Gogh Museum, temporary installation and performance, Amsterdam, 2016
Van Gogh Museum, N8 ANIMA, Amsterdam, 2015
TEDx, ANIMA 2, Delft, 2015
Lehrter Siebzehn, ANIMA 2, Berlin, 2014
KANTOR music-art-technology, ANIMA 2, Amsterdam, 2014
VolksHotel, ANIMA 1, Amsterdam, 2014
Van Gogh Museum, temporary installation, Big Words, Amsterdam, 2014
Bradwolff Projects, The Lightbulb a sculpture for VeeJaying, Amsterdam, 2014
Het Kunstenaarsbal, The Lightbulb a sculpture for VeeJaying, Tropical Institute, Amsterdam, 2014
Amsterdam Light Festival, Video Mapping Moses and Aaron Church, Amsterdam 2013
W139, group exhibition, The Primitives, Amsterdam, 2013
VIDEO ZONE, International Digital Arts Festival (performance), Poland 2013
Eye Film Institute (performance), Museum Night, Amsterdam 2012
Todays Art Festival (NL), (perfromance), 2012
---
MUSIC-VIDEO
Doe Maar & KennyB, 5446 Is My Number
Sandra van Nieuwland, Stop the Clocks